Virtual Reality is on the Horizon for Remote Work
Episode #14 - June 19th, 2017
Hollywood has fantastical depictions of "Virtual Reality", but with hardware readily available such as the Oculus Rift or HTC Vive, VR is in the near future for the larger population. Chance Glasco is one of the co-founders of Infinity Ward (creators of the Call of Duty gaming franchise). After 12 years at Infinity Ward, he's now co-founded Doghead Simulations which is focused on Virtual Reality and Remote Work. Listen in to hear what this early-stage startup sees as the future of remote work.
Featuring
Chance Glasco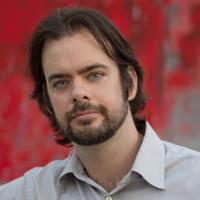 Chance works as Chief Creative Officer for Doghead Simulations He had his start in the game industry by working on Medal of Honor: Allied Assault. After a successful first game, he left to become a co-founder of Infinity Ward, the original studio behind the Call of Duty franchise. Chance's titles have sold over 90 million copies and generated over 4 billion dollars in revenue. In addition to working with art and animation in games, Chance has been featured as a guest speaker around the world.
Lily Snyder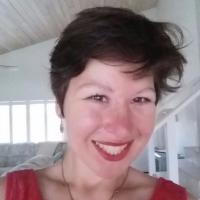 Lily is COO at Doghead Simulations. She is a seasoned consultant in delivering enterprise software with over three years experience working remotely in distributed teams. Lily specializes in serving as a liaison between the business and technical teams to bring software solutions to life. She is an international speaker who enjoys talking about virtual reality, remote teams, and the future of work.
Hosts
Jonathan Sharp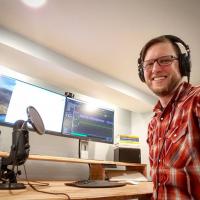 Jonathan Sharp has worked remote since 2008 in a variety of engagements from freelancer, contractor, employee, to entrepreneur. He has participated in a variety of remote teams from a handful of individuals through large 65+ person teams. He has also previously managed a fully distributed enterprise consulting agency with a team of 23. Jonathan loves the topic of remote work and the opportunities it affords.
Sponsors
Managing Remote Newsletter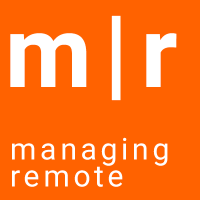 Show Notes
Chance Glasco, is "sort of" a game developer, co-founder of Infinity Ward, maker of Call of Duty, now CCO and co-founder of Doghead Simulations. Lily is the COO of Doghead Simulations and has been a remote worker since 2013. Doghead Simulations is fairly new and is developing Virtual Reality.
How would you describe virtual reality?
Fooling your brain into thinking you're somewhere else. A digital version of reality.
What experience does Doghead Simulations give to remote workers to provide virtual collaboration?
Rumii is the name of the VR software. It's used to create a virtual reality meeting room.
Mentions from the show
What's the Buzz?